It is the month of February and  Q4 seems like a lifetime away. I am beginning to see one story develop in more detail as time goes by. Ecommerce in North America is becoming a battle between Amazon and Google. It is Jeff Bezos vs Larry Page, the State of Washington vs California and it all boils down to owning the commerce vertical online.
Background
Regular readers will be aware that I believe that Amazon is the gold standard for ecommerce. Their value proposition is attractive for customers and they control the entire ecommerce value chain when a customer acquires a product from them. The only thing that Amazon does not have a 100% control over is logistics, the final step to getting the product into the hands of the customer. I believe that Amazon is solving that problem by coming closer to their customer's location through fulfillment centre's.
Google on the other hand is a technology company not really sure what it's core offering is. It is a media company (via Adwords, Product Listing Ads), a lobbying behemoth (they spent $18 million dollars in Washington, as seen in the graph below), a mobile operating system company (via Android and Motorola Mobility), provide analytics and software for business (Google apps). It is becoming clear that they have ambitions for retail which makes sense. Increasingly it is being shown that they also want to be part of ecommerce.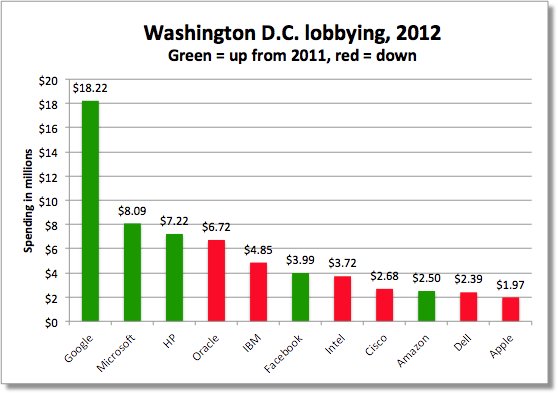 The battle for domination
Google is concerned over their drop in search volume with regards to commerce searches. Users are starting their commerce searches on Amazon and not on Google. Remember if the content is not in the Google index, then Google cannot show ads next to it and thus loses the opportunity to make revenue from it. Mobile which is a priority for the company is also cannibalizing Google's ad business.
Behavioural data backs this up; search traffic declined in September this year for the first time since 2006, partly because of more vertical searches through apps.

That's bad news for Google, which still relies on search-related advertising for its core business – and great news for Apple and its app-controlling empire.
Jeff Bezos is one of the few commerce CEO's that has the ability to tell the long term effects of a business on his commmerce business. Thus he has quietly built an ad network which is slowly becoming more visible and has decided not to be included in Google Shopping. That decision is huge and has substantial impact for Google  and I can imagine that behind the scenes there were many meetings over a possible resolution.
Amazon Don't Play That Game

The new system began on October 17. Perhaps the most striking change by Google deciding that it would only list merchants if they pay to be included is the absence of a little known online retailer called Amazon. Nope, Amazon doesn't want to play Google's game, where it only gets included if it pays.
Google is ever increasingly showing it's ecommerce ambitions and you know who is left between this battle between Google and Amazon? The customer, so much for "a better user experience".
Behind the scenes, the two companies are waging a war to become the pre-eminent online mall. And e-commerce sites large and small are caught in the cross-fire. As for consumers, the question is whether they will see a full range of products available online.

Google is a search engine, not a store, but it is increasingly inching into e-commerce with products like its comparison-shopping service, Google Shopping. At the same time, more people are using Amazon , a retailer, as a search engine to look for what they want to buy.
Google has been acquiring businesses to bolster it's ecommerce offering (Like.com, Sparkbuy, Bufferbox and Channel Intelligence) and this has sparked concern in the comparison shopping industry as well as in ecommerce circles.
Comparison shopping is facing pressure from both Amazon and Google. Amazon has steadily been chipping away at CSE's through a combination of Product Ads and their marketplace model, but it is a margins game and in my mind. Amazon can  be seen as the pied piper walking ecommerce businesses down the line being unprofitable, bleeding cash and being margin focused. Where do they make their largest part of their revenue? My guess AWS, ebooks and supplementary services but not their retail offering. Anyone noticed that their third party selling platform (3P) has grown to become their biggest driver of revenue?
Google on the other hand has in the last 18 months driven the comparison shopping engine (CSE) space into dangerous territory. Net neutrality issues raises their head every now and then and they have done their utmost to devalue the staple of the CSE space (organic Search Engine Result Pages). Product Listing ads are in my mind the biggest driver of concern and I think solutions like what Shopzilla has done with forming their own display ad network needs to be commended.
In August 2012, I made a note in a post on the threat that Google poses for Comparison Shopping.
Q: From a retailer's perspective, what are the key differences between Google Product Shopping and other CSE's out there? How should I allocate my CSE budget?
A: The main difference between Google Product Search and other comparison shopping engines is that Google gets the most traffic and spends the most money on their engine.  If your budget allows you to be on only one engine, it should be Google Shopping. However, it's better to be on a variety of other engines because they can all be profitable with the right datafeed management.
Ecommerce in North America has been dominated by a rumor that might see Google headed to something akin to a marketplace. Personally, I think there is merit to the idea but I can't see Google going into this concept in the next 18 months. They cannot compete directly with Amazon as that will end in defeat.
Google could create a database of products and send shoppers to a page that has a way to buy quickly through the company's payments service Google Wallet, Forrester's Mulpuru said.

Google could then send that transaction to the retailer who would ship the product to the consumer. That ability is critical, according to Schachter, who said if consumers lack the ability to purchase items through Google it will lag Amazon and eBay Inc.
A quarterly analysis on the Battle between Amazon and Google
Earlier today, CPCStrategy released some very interesting data on the performance of Google Shopping and Amazon Product Ads In Q3 & Q4. The results confirms a few things for me:
If you are a merchant, you need to have a clear strategy over where your products are seen and marketed. Is it on Google Shopping, Amazon Product ads or a combination of both? Personally, I am leaning towards Amazon being the preferred choice. More on that in a bit.
The paid for Google Shopping, the big bet that Larry Page took is paying off for Google. This new platform plus Product Listing Ads are making great revenue.
I don't believe Amazon will ever list with Google Shopping based on the evidence seen in the various graphics on CPCStrategy. Google is a threat to Amazon's future.
The data is only representative of North America and not other markets in which paid for Google Shopping is being rolled out. A market that has a clear ecommerce market leader will be aggressively courted by Google to list on the new platform. Whether you want to, is a question that needs to be carefully thought about.
Lets have a look at some of the beautiful graphics on the performance of Google Shopping and Amazon Product Ads. (These are used with permission from CPCStrategy)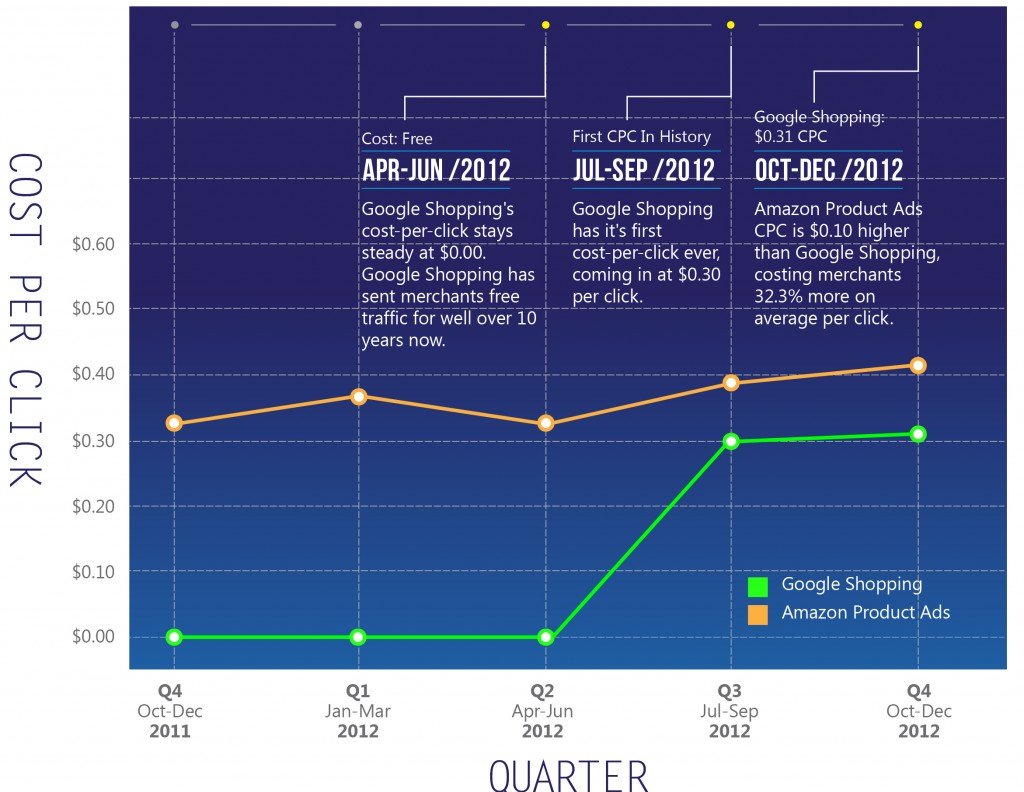 In the graph above, Google shows growth between Q2 and Q3. What needs to be kept in mind is that Google offered discounted click rates to merchants to speed up the paid-for Google Shopping adoption. Thus the growth cost Google a fair amount. I find the CPC rate interesting that they selected to use initially, 30 cents seems a rather arbitrary number. From an Amazon point of view, the Product Ads have shown a consistent CPC of between 30 – 40 cents. I note that as soon as the new Google Shopping became active, the  clickprice increased to be higher than what was seen from Google Shopping. An opportunity to raise the CPC price, Amazon?
The most telling graph for me is the conversion rate (seen below). As the price of the clicks increase, so does the conversions for Google decrease; which raises questions for me about product data quality and all of the things which Google should be enforcing for all of their merchants.I understand that CSE's are a marketing channel but the traffic must convert to sales for the investment to seem viable. Sending more traffic to a commerce website is great but from a business point of view, the service which provides the better conversion is the one which will be worth paying for.
Amazon Product Ads on the other hand increased in conversion combination with the increased click cost. The fact that Amazon's conversions increased is telling and leads me to believe that Google has trouble coming if they want to battle Amazon.
If you are a merchant, increasing click costs and a decrease in conversions leads to questions to the Comparison Shopping Engine? Can merchants contact Google for assistance?
If I were a business owner, this is the graph that would determine where I list my products for marketing purposes. My previous post on Google has no effect here, it is all based on what I see in the graph below.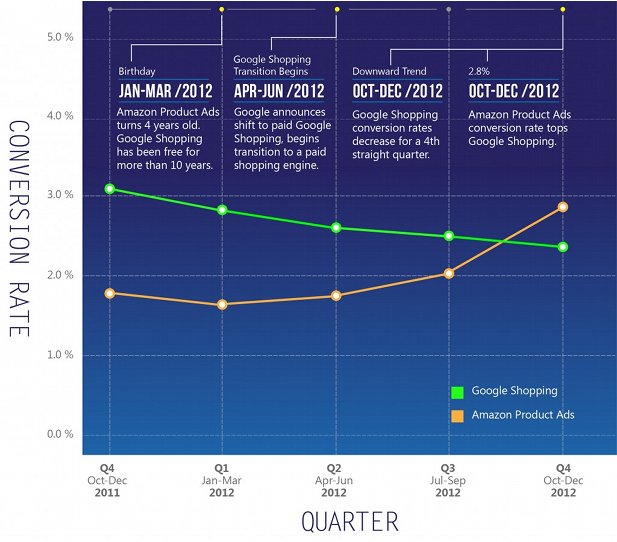 So with all of this in mind, what do these graphs show?  The battle between Amazon and Google is in early stages however, Google's primary revenue driver (advertising) is increasingly under pressure. Paid for Google Shopping has to become a lot bigger for Google to be able to compete with Amazon. Am I the only person curious as to why Eric Schmidt sold a large chunk of his Google stock recently?
E-commerce, in all markets is getting more competitive by the day, as customers ever increasingly trust us who work in the industry to help them make a good purchasing decision. Jeff Bezos does not care about profit margins and Larry Page is driving Google to self-driving cars. As a consumer I know which CEO I would trust more with buying products via the Internet (hint he does not care about profit).