Alibaba has been on my mind for the last 18 months. I have not been writing about the company as I researched, asked opinions from senior ecommerce executives and have been trying to understand the impact that the Chinese behemoth will have on ecommerce. Let me be frank – everything changes, it really is as simple as that.
The reality of Alibaba
I spent a few days reading the epic and first real look at Alibaba – its SEC IPO documentation. I have always thought that Amazon was a very difficult company to try and compartmentalise (the amount of disruptive businesses inside Amazon is small in comparison to Alibaba). In terms of business functionality Alibaba can be seen as the following:
Amazon Marketplace
Paypal
UPS
Amazon Webservices
Fidelity investments (this is to be seen as comparison to Alibaba's Yu'e Bao fund)
Amazon's MVNO for mobile phone contracts (which will be operational from June)
All of the above together is equal to Alibaba. There is no easy way to explain the scale that is seen at Alibaba.
The thing that makes Alibaba astounding is the size that they have. The scale that Alibaba has is partly due to the size of their home market (China) and the aggressive nature that they have defended their businesses.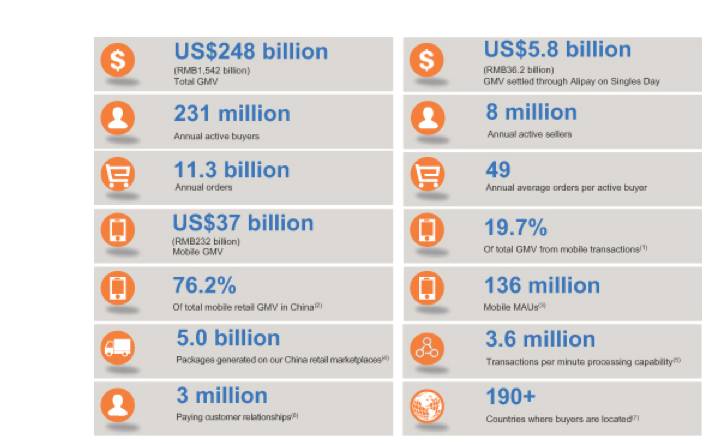 Source: Alibaba Filing
The upside
(Google's Tim Schulz did an amazing summary late Saturday evening):
1/ There are 657 cities in China, 160 of which have a population of >1M. #Alibaba knows them well and can deliver cost effectively vs. all – Tim Schulz (@timschulz) May 11, 2014

2/ #Alibaba has 950,000 delivery personnel –2x the US Postal service – Tim Schulz (@timschulz) May 11, 2014

3/ #Alibaba's mobile payments biz handled 5x more mobile transactions than @PayPal — Tim Schulz (@timschulz) May 11, 2014

4/ Alibaba delivers 5B packages a year. UPS delivers 4.3B — Tim Schulz (@timschulz) May 11, 2014

5/ Alibaba's money market fund went from last to 4th largest globally in 10 months — Tim Schulz (@timschulz) May 11, 2014

6/ 600 million+ Chinese Internet users are migrating to smartphones. Alibaba and WeChat are aggressively competing http://t.co/et2bGuinhW — Tim Schulz (@timschulz) May 11, 2014

7/ Alibaba's grip on China firm, but brand unfamiliar w/US. Globalization of tech a 2-way street: US brands will crack China @ vice versa. — Tim Schulz (@timschulz) May 11, 2014

8/ Speculation: $15-20B Alibaba IPO kicks off US marketplace-related infrastructure M&A. Small e-comm VC bubble emerges, but w/few winners
— Tim Schulz (@timschulz) May 11, 2014
If you look at the above then it seems like there are no real points of weakness for Alibaba, right?
A mobile problem
I keep reading that mobile is a problem for Alibaba which I am battling to understand.
@henlaub Alternatively, Amazon should be watched, but doesn't spell doom for Alibaba.

— Mike Dudas (@mdudas) May 9, 2014
@henlaub looks as if I was off on Alibaba's mobile strength. Solid in home market, not elsewhere: http://t.co/ehgr7nIrLA

— Mike Dudas (@mdudas) May 10, 2014
Alibaba has a dominant position in ecommerce in China. 80% of the total market is owned by their platforms (Tmall and Taobao). In terms of mobile commerce – in terms of GMV and MAU's it is really not even a question on their dominance in terms of commerce. However, they have some challenges with mobile – Tencents recent investment into JD.com will allow the millions of users of Weixin (Wechat) closer intergration that what is currently is seen on Chinese m-commerce.
Alibaba, focused on commerce in China first, dominates mobile commerce in China by a wide margin. In inthe year ended December 31, it accounted for 76.2% of all mobile retail GMV in the country, not including virtual goods, according to figures from iResearch cited by Alibaba in the report.

"Our Mobile Taobao App has been the most popular mobile commerce app in China by mobile MAUs every month since August 2012," the company writes. That app has been out since 2010.
TechCrunch has it spot on and as far as I can see inside Chinese ecommerce – there is no reason for anyone to doubt market ownership. The major thing that no-one is mentioning is that Alibaba is accelerating the speed of m-commerce adoption through a $80 million investment. Not one other brand is going this far to ensure that their customers and platform partners are leveraging new technologies (mobile) except Alibaba.
During Alibaba's recent 11.11 Shopping Festival – China's answer to America's Cyber Monday shopping bonanza – 21 percent of orders were being placed via mobile devices, up from a mere 5 percent a year earlier, an indication of how mobile is gaining importance among Chinese shoppers.
Alipay which is not part of the IPO is the biggest mobile payments processor in the world, yet Alibaba has problems regarding mobile..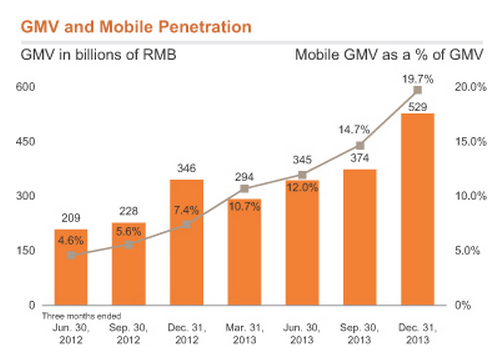 The potential problems:
The Chinese government  – This is a serious problem and one that in the long run could become a shareholder headache. In the Western world our laws are clear and in the public domain. In China – certain laws are not in the public eye and thus at any given time – Alibaba could be liable to pay huge fines etc.
SME loans and their money market business – At the moment there is little concern from the financial powerhouses in China over Alibaba and their financial business. However in the last 3 months their money market product has been getting more attention from the finance industry. I personally see Alibaba in the long run selling their money market business to one of the pure play financial businesses. The SME loans business will go the route that Amazon gone to – performance orientated.
Lack of trust in Chinese businesses – If one looks at Huawei and the treatment that they have received in the US over government contracts etc it is hard to see that Alibaba will not experience the same over big acquisitions, if they decide to go down that route.
Very little experience in global ecommerce – What does Alibaba own outside China? Stakes in startups like Shoprunner, Lyft but very little in terms of ecommerce. This could be a challenge for potential synergies as, if Alibaba is to grow it will have to be outside the borders of China..
The business is very reliant on their ecommerce operations (I did a quick calculation and a very large part of their profits come from ecommerce.. something in the region of 80%). Compare that to their regional competitors like Naspers, Amazon, eBay and Rakuten those businesses have shared the risk of ecommerce across many other verticals and business operations.
Counterfeit products on their marketplaces. I am fully aware that Alibaba has invested significantly in ensuring that no counterfeit products are seen on Juhuasuan, Tmall and Taobao.
Buying the incorrect businesses to accelerate the growth of Alibaba. Alibaba is going to be having a lot of money to spend on acquisitions and that will raise the pricing on certain startups. Thus they will need proper due dilligence to ensure that their new assets fit in with their business.
What to buy with those Billions?
I am thinking that Alibaba will be raising anything between $15-20 billion for the IPO to be deemed successful. With that in mind – the challenge will be what ecommerce companies will they want to acquire? I am going speculate:
Etsy – The maker marketplace from New York fits right into the Alibaba business. Lots of upside and growth potential as new capital will raise ability to enter new markets. The potential acquisition could add significant value for 11 Main. This has a real chance to happen.
Square – The business is clearly in need of more capital and will if bought provide Alibaba's payment subsidiary the opportunity to have a bigger impact on payments in North America. I am unsure whether Sequoia Capital, KPCB and others will be interested in parting with this business for under $1.5 billion.
Stripe – This is at the moment the payments startup that has many users and investors happy. Major potential and upside and could be a huge global business like PayPal. One of the startups that Alibaba has a stake in lyft uses Stripe..
Shopify or Bigcommerce – One of the shopping carts that are used by the masses will be bought potentially. Shopify seems the likely candidate as it has a large customer base and already has moved to look into offline commerce which Alibaba already has a stake in China.  This has a real chance to happen.
eBay – Think about this, eBay is a global ecommerce business that owns a marketplace, payments business and other verticals. Perfect fit and would suddenly add huge value to both businesses. The price might be too high but it is a possibility in my mind. Does this happen? I am unsure.
MercadoLibre – If Alibaba does not want to enter the US then this makes a lot of sense to me. Regional powerhouse that is powerful in its own right but with Alibaba's backing would lock down Latin American ecommerce ecosystem to a three way fight (OLX, MercadoLibre and another company). Does this happen? If MercadoLibre stays independent from Alibaba, I can see it happening other wise it will be a non-starter.
Rakuten – In terms of Asian ecommerce, Rakuten is the one competitor that Alibaba could acquire fully. Then the Asian market is dominated by one company Alibaba. Would Hiroshi Mikatami sell his beloved company to Jack Ma – if the price is right, I think so. Rakuten also gives Alibaba access to Europe, Latin America, the US and would solidify the South East Asian ecommerce market..
I wait with baited breathe for the final IPO documentation as that would give us more information to ponder over. Jack Ma is going to make a lot of people a lot of money.