I have been reading and thinking about the latest edition of the ecommerce cold war between Google and Amazon.
Google Inc. plans to push deeper into online commerce by enhancing its Google Shopping service with features that more directly challenge Amazon.com Inc.

Google has approached retailers about creating a "buy" button for its online shopping site that would be similar to Amazon's popular "one-click ordering" feature, according to people familiar with the discussions.
It is becoming increasingly clear to me that Google has serious concerns over the ambitions and dominance of Amazon in product search.  Bill Gurley made a very interesting point in a recent interview on Bloomberg (video) where he said that Eric Schmidt said the following when asked about their biggest competitor:
If you are looking to buy something, perhaps a tent for camping, you might go to Google or Bing or Yahoo or Qwant, the new French search engine. But more likely you'll go directly to Zalando or Amazon, where you can research models and prices, get reviews, and pay for your purchase all at once. Research by the Forrester group found that last year almost a third of people looking to buy something started on Amazon — that's more than twice the number who went straight to Google.

For one thing, these companies are each others' biggest competitors, because in tech competition isn't always like-for-like. Many people think our main competition is Bing or Yahoo. But, really, our biggest search competitor is Amazon. People don't think of Amazon as search, but if you are looking for something to buy, you are more often than not looking for it on Amazon. They are obviously more focused on the commerce side of the equation, but, at their roots, they are answering users' questions and searches, just as we are.
The context is important here – Schmidt was talking to a European audience at a time when he was defending Google's business to European legislators whom are currently looking at Antitrust cases for Google's various businesses. The point is that Amazon was until this conversation never publicly mentioned as a search competitor for Google huge search index.
Let's get real
Let me be clear on something, I don't believe that Google will ever do a marketplace as Google is notorious for not wanting to enter high effort businesses that cant be solved with data and algorithms. E-commerce and marketplaces are hard and Amazon has 20 years' experience, 244 million users and servers worth of data on their habits etc.
Google will be using their search engine to drive traffic to their own augmented shopping product. Google Shopping plus specific product advertising extensions plus Google Express will be their version of a marketplace.
If Google was serious about trying to enter Amazon's domain they would take them off Adwords. By removing them potentially via some technicality (remember that Comparison Shopping Engine were not allowed access into the PLA programme initially over being an intermediary between a customer and a landing page..), Amazon would be totally dependent on organic search engine results (which I might add is generally very good). Google has not been able to convince Amazon to enter the Product Listing Ads space for a reason in my mind – Amazon is protecting their own businesses from high PLA costs and something else which I will get to in a few minutes). Only in France which is a relatively new business in comparison to Amazon in the US are Product Listing Ads seen. Amazon has kept using text ads on Google and has seen great returns on it:
Regardless, as long as Amazon remains out of the PLA space, its overall share of paid search traffic will never be as high as it could be, to the benefit of all other advertisers who are taking advantage of product ads, large and small.

While the data didn't show a dramatic increase in impression share or position shift in Q4 of last year for Amazon across industries, it will be interesting to see how much more aggressive Amazon gets with their text ads as they duke it out for sales during the biggest shopping season of the year.
There is another reason why Google wont do anything to Amazon – it is the biggest spender inside the shopping / retail vertical for Adwords. Amazon spends millions of Dollars a year to drive traffic to product pages to ensure that their sellers receive enough eyeballs that lead to sales conversions.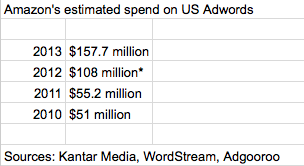 The real story
I believe that there is a back-story to this sudden interest in Product Search by Google. At the moment, if you take away the advertising business only Android looks like a future-proof business. Google has been dependent on the web since the company was a startup. If one looks at global trends we are moving away from desktop web to mobile web / apps. The mobile web and app is a huge disruptor for Google – search engine marketing means nothing for mobile web users and the mobile web has a totally different search behaviour for users. You are looking for an answer, a location, or a product and if you don't find something relevant you move on to the next search. Your screen size is considerably smaller so those Google ads are now an irritant and not something that you ignore.  Google has not been able to leverage the mobile web in the same manner that it has been able to dominate desktop search.
Apps are a private client-server relationship that Google has no idea on what is happening. Maybe on Android but on iOS, Windows and on forked Android versions those are all outside Google's index and advertising.  Amazon is the only business that I know of that is available on any and all app platforms. Nic Brisbourne summarizes it well:
It's been troubling me recently that at first glance the trend towards mobile and the trend within mobile towards apps mitigates against startup ecommerce companies. Amazon is one of the first apps I download whenever I change phone, but it's the only ecommerce app that I have, and that's because Amazon is the only place I shop frequently enough to be bothered to download an app. I'm not the best example customer because I don't shop much, but generalising the problem I think there aren't many categories of ecommerce where the interaction is frequent enough to merit an app. Grocery shopping is a weekly event for most people and that merits an app, and shopping for shoes is a monthly endeavour for many people, hopefully frequent enough for our portfolio company Stylect to prosper, but most shopping isn't like that.
The amount of transactions that Amazon does through their various mobile and desktop apps are only known by Bezos and his top executives. I have in the last 6 months only bought via the Amazon iOS app as I find it easier then doing it via the Amazon website. Amazon ensures that their apps are updated as new phone features become available and they don't mind asking their users to only purchase via their desktops for certain apps (Kindle and Audible) to ensure that they don't have to pay Apple any royalties. Notice that the Mountainview behemoth is not mentioned at all in his process.
Facebook has become in my mind an even bigger threat to Google in terms of commerce. The fact that that can provide proper attribution for advertisers based on customers likes converting into sales of items is another shot against Google's mobile business. Facebook has become a industry leader with their mobile advertising and has become a dominant player in driving customers towards content and app downloads. This is suppose to be Google's territory but Facebook and Amazon are going to be standing in Google's mobile future.
Amazon becoming an advertising platform
Jeff Bezos was an early investor in Google but as time has gone his business and Google's relationship has become strained. Amazon I believe sits in very unique place with regards to advertising on their own platform. Amazon has the most accurate user data that any commerce platform has – I find myself purchasing items via recommendations and email more often than not. This data is outside of the Google index and I believe is another reason why Google wants in on Product search. The mere fact that Amazon is building their own advertising business that will ensure that they can show product based ads not affiliated to Google's advertising network is obviously another way in which Bezos is showing Google that he does not need them.
Amazon is able to use anonymized data to target customers effectively. Every time you use an app or the Amazon website – Amazon collects data on the user. Amazon's reputation ensures that they are one of the few businesses in which customers do not mind them tracking their habits. Being able to attribute certain behaviours to an anonymized user, makes Amazons advertising platform an advertisers dream.
Google has a very large problem that is not being discussed in the public domain. Due to their longstanding belief that their various digital products don't share user data within Google due to a fear of antitrust lawsuits, Google does not have the ability to provide advertisers with proper attribution data. Facebook and Amazon on the other hand have all of this data and are making revenue off it. If you do a Google search on a mobile platform which leads to an offline conversion for a Google advertising partner – Google has very little way to provide that information.
Retailers are uneasy over Google's buy button
Retailers are not going to be keen for Google to be the transactional part of their listings on Google Shopping. The mere fact that Google will have that data as well as the information of the customer makes the online retailer a logistics solution. I am yet to see any Comparison Shopping engine / Product Search engine being able to provide this to partners without retailer revolt.
There is also another major issue here – when Google acquired Channel Intelligence in 2013 retailers expressed concerns over Google's access to stock level data. Behind every ecommerce transaction things such as stock levels of the respective items is not seen by the customer but making that part of the acquisition flow would put retailers in an awkward position. For a customer to see "only 5 items left" would create a conversion to a sale potentially but Google then would be in a position to increase CPA costs for retailers. Do retailers really want a huge marketing channel Product Listings Ads (PLA's) to be augmented with another potential conversion element?
I am fully aware that Amazon competes with their partners for the buy box, but would a buy button on Google shopping not be a potential goldmine for Google?
The real reason behind this move
Over the last 18 months Amazon has invested billions into distribution centers all over the US. This puts them in a position to be able to ship items almost immediately to Prime customers. Why would you then open Google to search for a product? Amazon has with Prime a solution that makes it almost impossible to compete with them. Product selection and convenience makes the conversion almost a no-brainer, right?
Google has for years dominated local via maps and advertising. Now Amazon has due to scale and logistics become a challenger. The addition of AmazonFresh (groceries and food delivery) and now Amazon Prime Now (only in New York currently) has ensured that opening up Google maps in Seattle, San Francisco and New York becomes redundant for retail. Add to this, the services marketplace called Amazon Local Services then there is more potential for customers to not open up a Google window to search for things.
Google tested the waters with the buy button but they will roll-out it out with partners that they provide favorable terms with in terms of marketing and Adwords. Amazon will continue to stay away from Product Listing Ads to ensure that they remain Google's biggest retail / shopping advertiser.
It is now for retailers to find a solution to the quandary of "should I deal with Amazon" or  "should I partner with Google Shopping"?