Alibaba's IPO was one of the headline stories of 2014. The Chinese ecommerce business raised record amounts of cash that will allow them to pay shareholders back for showing faith in them. Alibaba is also in a position unlike any of their global competitors to aggressively acquire companies that will put them in good stead for the foreseeable future.
Alibaba has one major weakness and it is quite apparent in their M & A (mergers and acquisitions) strategy – they have done very little outside of China. It is understandable pre-IPO that they wanted to focus on China only and ensure that they are the undisputed market leaders in their home market. Post IPO they have to start looking at business outside China and ensuring that they are creating a sustainable business. I believe that in 5-10 years' time that Tencent and JD.com would have made significant inroads on Alibaba.
So lets see what Alibaba could acquire:
There are a few companies that from the outside would make a lot of sense:
Borderfree
Bigcommerce
Aramex
eBay marketplace business
Shoprunner
The logical targets
Borderfree: Borderfree allows merchants to ship items to new markets without having to deal with payments and logistical challenges. Acquiring Borderfree will allow Alibaba to introduce almost a 100 merchants to Chinese shoppers. Borderfree also makes sense as Alibaba is currently using ShopRunner to fulfill a similar task. Borderfree has a market cap of $247 million and thus would be an acquisition target. In 2014 it had a maximum enterprise value of $565 million but currently has an enterprise value of $98 million. The only reason why an acquisition wont occur is due to Alibaba potentially not meeting the desired price for shareholders to sell their shares.
Possibility of occurring: 7/10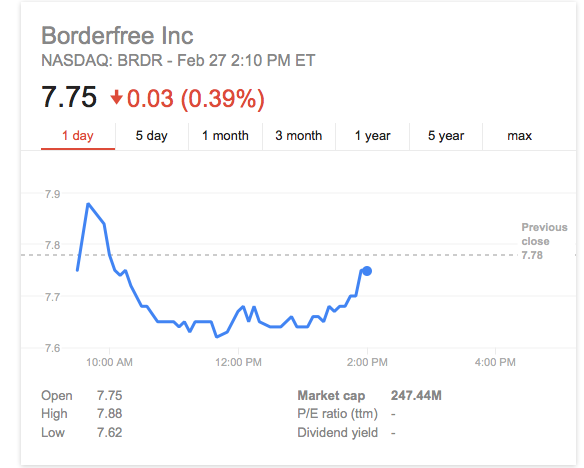 Bigcommerce: Bigcommerce is a ecommerce software and shopping cart solution. In 2014 Bigcommerce and Alibaba announced an integration that would allow Bigcommerce merchants to acquire goods from Alibaba suppliers. Bigcommerce's direct competitor Shopify is on the way to an IPO but a potential Alibaba acquisition would add a significant amount of non Chinese partners on Alibaba's balance sheets. I don't see Bigcommerce being able to create significant business to go public thus an acquisition makes sense to ensure that Bigcommerce investors make a return on their investment. A shopping cart will also add a new element to Alibaba's ecosystem which they could then provide to Chinese customers.
Possibility of occurring: 7/10
Aramex: Aramex is a logistics business that is based in the Middle East that has been on the acquisition trail the last 18 months. They provide shipping to a large amount of business in the Middle East and Africa. Currently they service Amazon's customers in South Africa. Aramex has acquired logistics businesses Berco in 2011 and Postnet in 2014. They also acquired Mail Call Couriers in Australia in 2014. By acquiring Aramex Alibaba would continue its strategy to acquire or partner with regional logistics businesses to ensure a supply chain on a large scale from China to any part of the world. Aramex could prove to be costly but would provide Alibaba intelligence in markets that they have little information on.
Possibility of occurring: 6/10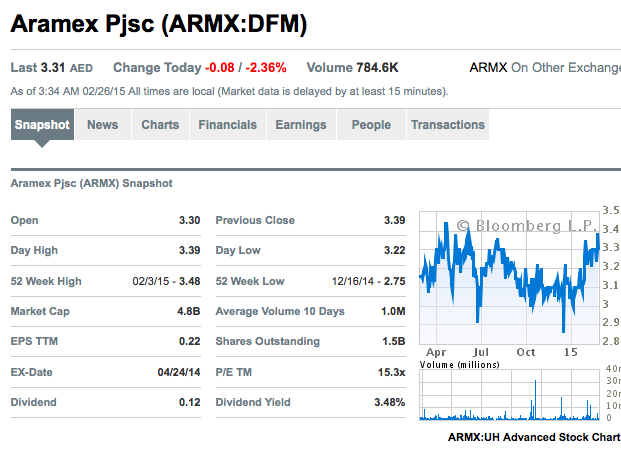 eBay marketplace: eBay will be spinning off PayPal off from eBay and create 2 new businesses in March 2014. eBay's marketplace business is currently an unknown in terms of financial results and scale. Over the last 10 years PayPal has provided the growth for eBay as the marketplace business has struggled in the US and Europe. I believe strongly that Alibaba is looking for a blockbuster acquisition in the US. As a supposed powerhouse their lack of visibility in the US is a potential headache for Alibaba leadership. eBay's marketplace has a market capitalization of $20 billion which could potentially ensure that the marketplace business is too expensive for purchase by Alibaba.
However Alibaba could gain all of eBay intellectual property in mobile commerce which is at the moment market leading as well as the ePacket. The ePacket was created through a deal between USPS, eBay, and other post offices, and the service is not available to other e-commerce sites, which could prove to be beneficial for Alibaba if it acquires eBay. 40% of eBay's Chinese sellers are using ePacket to ship products to the US. Legislation and regulatory impact could potentially block this acquisition.
Possibility of occurring: 5/10
Shoprunner: After their investment into Shoprunner in August 2013 it would make logical sense into increase their investment. Alibaba is then in a position to further drive business to Shoprunner partners and would provide Shoprunner with capital to market at unhappy Amazon Prime customers. I don't believe that there are multiple customers whom have subscriptions at both Amazon and Shoprunner. Thus providing those unhappy customers with a solution could leave to more revenue. Alibaba is in the position to provide synergies to Shoprunner (lyft drivers) that could be a big potential disruptor.
Possibility of occurring: 4/10
From an ecommerce point of view, Alibaba in my opinion needs to do proper diligence to ensure that they don't invest in companies that will go up in smoke (such as Fab.com).
The biggest question for me is – what is Alibaba's ambition? Is it to be the biggest global ecommerce business with lots of interests in multiple regions or is it to be Chinese-focused with a few handpicked winners outside of China?