Over the last 18 months, I have been reading, researching and talking to ecommerce investors about China. Why? I am fascinated by the market as Chinese ecommerce is both unique and a look to the future.
China is unique
GDP growth
Economically China in my mind is bordering on a miracle. 6% growth consistently over 25 years which some years growing even more. I have realized that China has moved from being a factory based economy to a market that is reliant on consumption. The consumption has lead to the creation of businesses that are huge economically and only focused on creating wealth for their shareholders and the Chinese population. These businesses have to toe the line with the Chinese government.
If the GDP growth slows, Chinese consumption would have grown $2.3 Trillion by 2020.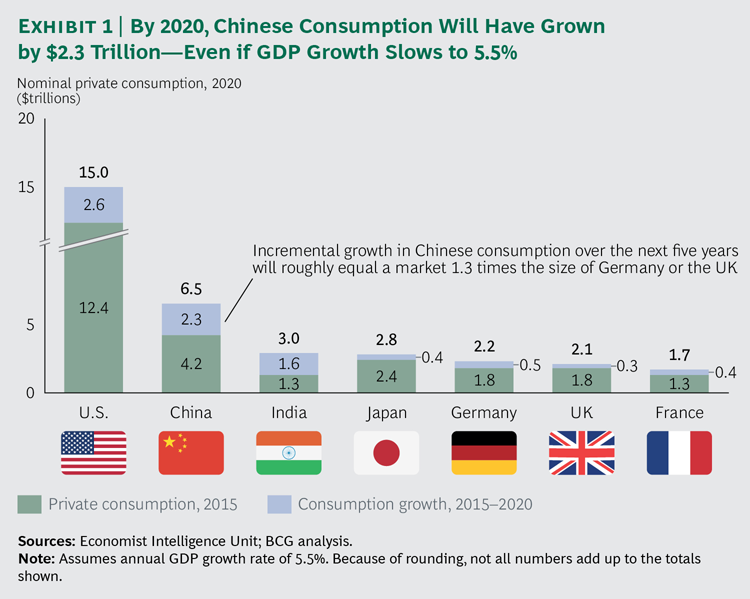 Disposable income

source: tradingeconomics.com
In a space of 35 years the disposable income has grown 3000% and due to the wealth created luxury goods have become a way of life for high income Chinese. The Chinese growth has also spawned a middle class that is able to spend on high quality produce and luxury not seen in any market.
Consumer spending

source: tradingeconomics.com
China has a huge population that is very city orientated. High earning Chinese stay in the large cities and are a boom to on demand services as pace of life is always on. Name a market that has a giant ride sharing business, a giant food ordering service that both have billion dollar valuations. What makes these businesses truly awe inspiring is that they have there founding teams based on ex-Tencent, ex-Alibaba talent. The consumer spending provides China with the opportunity to create businesses that have huge scale, deep talent pools and businesses that can go public.
Population

source: tradingeconomics.com
China is a unique market as it has the largest population of humans living on land as diverse as rice fields up till high end cities such as Shanghai, Shenzhen and Beijing. This is for me the tax that the west pays – these giant Chinese businesses have an excessively large user base that provides them the prime ability to market services, retail etc to. These large user bases are generally loyal to the apps or startups from their home country as the governments firewall has made Western Internet companies unable to access Chinese customers.
Chinese ecommerce is different
As someone who is deeply interested in ecommerce, China has always been something of interest and confusion to me. The interest was initially – that I thought that Alibaba, JD.com and others would follow the example of their Western counterparts and acquire businesses that would act as subsidiaries to huge parent companies. About 18 months ago I realised that was not going to happen why?



Alibaba has tried on occasions to enter the US market through acquisitions and it seems that 12 months afterwards they have either closed or sold the business. Western businesses (Walmart, Google, Facebook and Amazon) have struggled to make in roads on the  Chinese market due regulatory issues (censoring) and or local competitors out battling them.
Chinese technology companies have struggled by enlarge to make any meaningful impact in new markets. Why? The unique Chinese elements in their businesses have not translated well to the West. The best example of that for me has been WeChat – ginormous business in China but little traction anywhere else.
The Chinese customer is not like your Western ecommerce customer. Due to their retail ecosystem being subpar they shop online as a form of entertainment and as a way to "forget" about retailers close to them. In most of the Western world retail has a huge impact on ecommerce. This is why Alibaba's move into offline retail is one that makes a lot of sense.
Alibaba has recently announced plans to invest about $305 million in a discount supermarket in China, the Sanjang Shopping Club Ltd, which gives China's e-commerce giant a 32-percent share in the offline retailer.

According to Forbes, Sanjang, also known as the Chinese "Sam's Club," manages about 160 stores in Zhejiang Province. Yibada

The first is the concept of ecommerce becoming a traditional line of business, with the online and offline sectors merging over time. Alibaba already owns a large stake in Suning, a large Chinese electronics retailer, having purchased 19.99% for $4.6B in 2015. It also has a reach to the Chinese consumer not well understood outside of China, including payments and banking (AliPay, with more than 400 million registered users and 65% of the mobile payment market in China), entertainment (it owns Youku Tudou, the largest online video platform in China) and has major investments in companies like Didi (China's largest ridesharing platform) and a number of China's largest logistics companies. While we would argue Alibaba's strategy in this area is at least acknowledged by Western observers, it is arguably significantly underestimated and undervalued. GGV Capital – The Great Customer Upgrade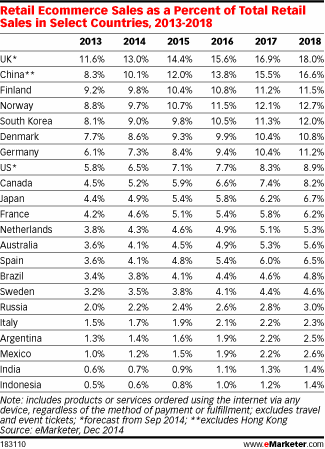 Chinese ecommerce  has a projected 13.8% of total retail in 2016 only Britain has a larger percentage. This is one of the reasons why Alibaba, JD.com, VIP360.com and wish will be huge businesses (more on Wish in a bit). Alibaba, JD.com have made investments into ecommerce for one reason only, to service the local population through product selection not seen on their competitors marketplaces/ websites.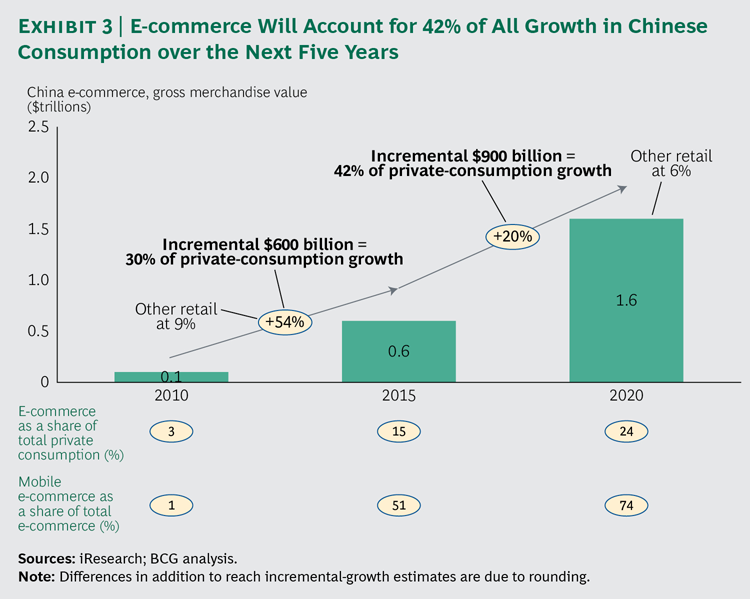 The Boston Consulting Group summarizes it well – Young, Affluent, E-Savvy Consumers Will Fuel Growth.
Wish is different
Wish.com is however different and will succeed based on fact that they have provided manufacturers another avenue to sell products to markets in which Alibaba and JD.com don't service. I am firmly aware that Wish makes at least 95% of their sales on unbranded goods that are made by Chinese factories. Alibaba has made their history based on providing manufacturers an avenue to reach new markets / customers. Taobao and TMall evolved from customer demand which could not be provided by any other competitors. For this very reason I find JD.coms investment into Wish very interesting as that shows me that JD.com would like to learn about the detail of their large competitor (Alibaba).
Tencent – The Chinese Social Powerhouse

Tencent has largely stayed away from ecommerce as their business was formed on social media and gaming. In 2014 that changed when they invested almost $300 million for a 15% stake in JD.com. Tencent showed their hand this year in how they will battle Alibaba in the coming years, WeChat.

WeChat provides luxury brands direct access to the heart of Chinese customers – millennials with expendable income. TMall is the brand focused marketplace that Alibaba has used as a way for brands to sell directly to Chinese customers but brands have struggled to deal with counterfeit products. WeChat has ensured that they solve that via official accounts that provide certain functionality to brands to speak directly to their Chinese customers.
What does this mean?
My thesis is quite simple now – Chinese marketplaces and on-demand apps are only focused on servicing their Chinese customers. Alibaba will continue to invest in content and convince brands to join their large marketplaces as currently they have the largest audiences that will spend on brands and products that are unique to a specific country.
The land grab between Alibaba and Amazon has begun and it is being driven by the need to provide sellers with largest customer bases that purchase regularly. JD.com I suspect will drive their agenda on being harsher on counterfeit sellers than what is seen on Alibaba's platform.
What makes JD.com different than any of Alibaba's competitors is that they have a large shareholder called Tencent who is looking at mobile commerce as their long term strategy.
Editors note: I am reposting this post from late 2016 as I had to remove it due to the content being infected by a compromised WordPress plugin which has since been removed.