"Google = fab search, Amazon = top-notch retail, Apple = elegant devices, Microsoft = dominant Windows, Facebook = best social networking."
Kara Swisher, on Yahoo
The last few days have been busy for Amazon and in all honesty, I think the bigger implications of this week will be seen in future quarters.  I have  been deliberately not mentioning Google in this as I think the implications of a paid for Google product search (Google Shopping) is much larger than what is expected.
My point of departure is from John Battelle which he wrote in early January 2012. The Internet Big Five By Product Strength contains a graphic representation of the big five's similarities (it is not perfect and needs some fine tuning). Let's not kid ourselves, these behemoths are interested in user retention and profit (OK, facebook not so much). We the users are to spend more time on their platforms to ensure that their products make revenue. That is the broadly speaking plan for Amazon, Apple, facebook, Google and Microsoft.
Click to enlarge the image: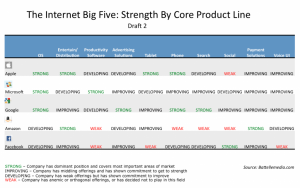 Earlier in the week Andrew Davis wrote Amazon Passes Google as Top Destination for Shopping Research [Report] on Search Engine Watch and I must admit I think there are a few things he overlooked.
Well for starters, the impact that Google Product Search had on these results are now visible. I am imaging that if Google Product Search was free as in the past then the search numbers would have been better for Google. I for one I am seeing less product results in current Search Engine Results on Google.com which leads me to wonder, if Google did their homework. It was free and successful but then go completely against the company philosophy and the results are dire. Is this a huge disaster in the making for Larry Page? I think so.
Kara Swisher mentions in my quote at the top just how dominant Amazon is in ecommerce. When Product Search was free, search result slots one, two ,three or four was normally an Amazon URL. Secondly, Amazon was the biggest commerce spender on Adwords in the retail space in 2011 ( a cool $55.2 million for 2011) and I expect that amount to be even bigger in 2012. Secondly, I believe strongly that Amazon has become a habit. Instead of doing a Google search for a product, users rather go to Amazon.com and get all the information there. 160 Million active users cannot be wrong (as mentioned by Fortune in March)
According to the Chicago-based investment banking firm William Blair & Company, the prices of goods sold by Amazon are up to 13% lower than its online and brick and mortar competitors. With more than 160 million active users, the company currently accounts for 20% of all U.S. online retail sales. Analysts expect it to grow further, picking up new customers at a clip of 20% year-over-year. Meanwhile, overall online retail, which accounts for 10% of all U.S. sales is expected to also grow, albeit more slowly at approximately 1% a year by some estimates. Online retail is expected to be worth some $226 billion this year, according to Forrester Research (FORR).
Amazon has 18 years experience with regards to ecommerce. That is 6574 days worth of knowledge, data and experience that rivals are competing against. The one thing that is critical in ecommerce is search. Google has a very good search engine yet Google product search is full of duplication and a bad user experience. Compare that to the best in class search that Amazon has and then you realise that Larry and senior Googlers have something bigger than a concern. Secondly, earlier in the year Amazon launched a product in their search business (I would love to see this in action one day..) A9 which I think has the potential to hurt Google big. CloudSearch is something that will ensure that more data stays outside Google's index which has negative impact for Google's revenue maker called Adwords. No data to place ads alongside has serious ramifications for the Mountainview company's future.
Bezos vs Donahoe
I disagree completely with Andrew's idea that Amazon is a eBay replica in Motion. One, Amazon actually makes a point to mention how important the marketplace is to them. 3P for me is where Amazon has the long term view that will make profit. It has steadily become a more important and integral part of their financial results.
"We launched auctions, and that didn't work. We launched Zshops, and that didn't work. And we finally launched Marketplace, which has morphed into Merchants@, and Marketplace was very successful. Our vision was, we want to have a place with universal selection, and we didn't believe we could do universal selection without a whole bunch of third parties helping us."

"The reason why Marketplace worked where auctions had not is because Marketplace was convenient, it was still one-click shopping. And our customers didn't want to do auctions. They were busy. They wanted to come in, find what they want, buy it, and go away."
Secondly, the leadership is very different. Amazon.com has the best ecommerce management in the world. eBay have brilliant teams or divisions but the top structure at Amazon cannot be compared to that of eBay.
One thing that I think also needs to be said, is that all this talk about 3P unhappiness from sellers seems to come and go. Nothing stops sellers from closing down their operations on Amazon. If it is so bad, then move on. Oh wait there is 160 million active users that can view your products everyday and lead to sales. The 3P success is a clear network effect that Amazon created. Marketplace sellers can't function without Amazon and Amazon needs the marketplace sellers for content  and greater variety.
The bigger questions is where does all these sellers go when Amazon is not for them? eBay, Barnes and Noble, Walmart, Newegg, Buy.com, Sears and Best Buy all have marketplaces yet, only Amazon is hurting their marketplace seller.
eBay is trying convince every ecommerce businesses that they compete with Amazon. Donahoe mentions that eBay is an enabler and a friend in the battle against that Seattle ecommerce company. The companies are very different and Donahoe needs to say this otherwise all the acquisitions done in the last 2 years was for nothing.
Amazon's entry into consumer electronics
If Amazon can't create technology products that are on par with their online shopping experience, don't release them. You're just diminishing the value of your brand and long-term ability to generate revenue.
The Kindle is a key component to Amazon's future. The Kindle Fire tablet is due for an upgrade and a rumored Kindle phone is on the way.
ReadWriteWeb's mobile channel had a thought provoking comparison between Apple, Samsung and Amazon a few weeks ago and make a very good observation:

Think of it this way: Would Google have priced the Nexus 7 at $199 if Amazon had not established a 7-inch tablet price with the Fire? Amazon may not make the highest-quality devices, but it has clout and consumers trust it. That gives Amazon the opportunity to not only offer a wide selection of tablets but also force its competitors to react.
Amazon is not driven by revenue, they have a long term plan and Bezos is all about the customer. The crux for these devices are to create a direct relationship with the customer. As soon as that is completed then the customer starts buying books, ebooks and music from Amazon. The device is not the money maker, the ecosystem that Amazon has ensures that over time the costs are recouped. Response from competitors show that Amazon is in the mind of their competitors. Which shows you just how far they have moved from being a pure ecommerce retailer.
Amazon is building it is offering to protect itself from their competitors. Their goal is to sell products. Google is a search engine that needs to be doing the work to make that usable. The battle between the big five is the thing that will ensure that we the user get the best from all involved.