Jeff Bezos must be the pied piper of commerce. His creation Amazon is slowly moving out of its traditional market (online) and disrupting retail. He clearly wants to ensure that Amazon can supply any product to any shopper in the US. (International focus is to intensify in the next 5 years in my opinion as current countries of operation become saturated)
The onslaught into retail and the high street started with the Amazon Price Check app. The idea was to enable shoppers to scan and compare products and then buy through Amazon at a discount.  In this specific case Bezos used the shopper as an intelligence network that would enable Amazon to create pricing data for retailer product.  It is telling that this happened in 2011 and if one looks back it was the beginning of their challenge to retailers in the US.
On Dec. 10, Amazon promoted a new "Price Check" mobile phone app by offering shoppers a 5% discount—valid only for that one day—on items they found in brick-and-mortar stores, but purchased online through Amazon instead. The app enables in-store shoppers to scan or snap a photo of a product. It then immediately compares prices with Amazon's. The app is prompting an outcry from small retailers, who say the site is using their independent stores as its own showroom.

"The goal of the Price Check app is to make it as easy as possible for customers to access product information, pricing information, and customer reviews, just as they would on the Web, while shopping in a major retail chain store," he said.

If one is honest then this is the beginning of the "showrooming" culture that persists these days that retailers are trying to combat. Best Buy has had to shrink their stores to deal with the after effects of being a show room for Amazon.
Internet retailers, especially Amazon.com, benefit when consumers visit a Best Buy store, check out an item like a TV or home theater system, maybe ask the salesperson some questions about features or performance, then go home and buy it online for a few bucks less.

This practice of "showrooming," as it's been dubbed by analysts, doesn't just affect Best Buy; Sears also said its first-quarter earnings were hurt by weaker electronics sales. But as the nation's biggest electronics retailer and one that's been virtually without an equivalent brick-and-mortar competitor since Circuit City's 2008 bankruptcy, Best Buy has the most to lose from this practice.
So commerce behemoth Amazon wants to be a competitor for retail, what would be the next logical are to put a stake down? Grocery shopping, yes buying groceries online.
Enter Amazon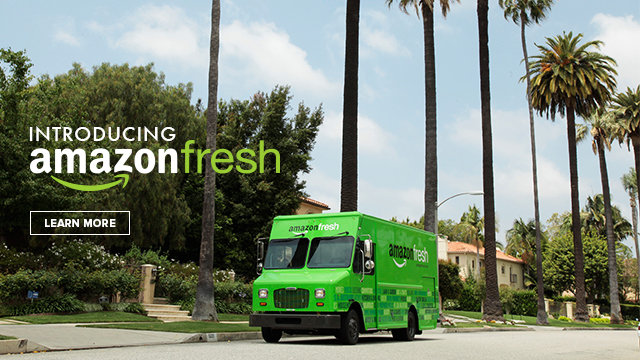 "After your free 90-day trial, your membership will automatically upgrade from a Prime membership to a Prime Fresh membership and you will be charged $299 for the next year and annually after that. This includes all the benefits of Prime, plus access to AmazonFresh. Your current Prime membership will be refunded on a pro-rated basis when you upgrade to Prime Fresh."
The above should scare any retailer beyond their cash registers. One, Amazon has now moved out of Seattle with AmazonFresh thus they have after  6 years of testing finally have a scalable operation. That in it self should concern any retailer as Amazon has internal technology at their disposal that many retailers and commerce businesses can only dream of. I think we will see in the next 3 years Amazon growing this business aggressively and adding to this offering.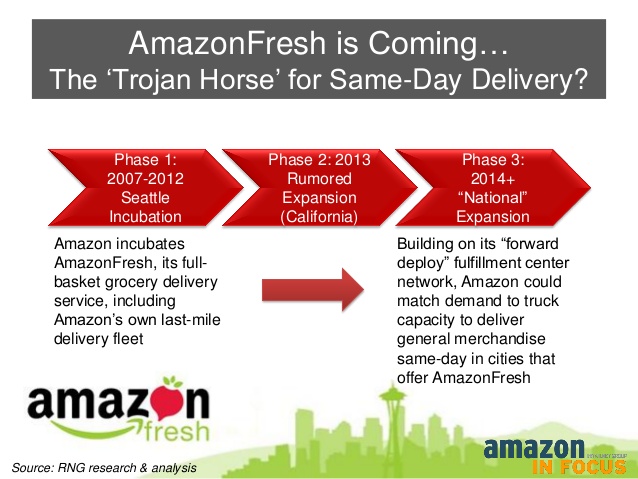 Source: RetailNet Group Slideshare
About 6 weeks ago, I found a great resource on AmazonFresh and it being a trojan horse for the Seattle behemoth done by the RetailNet Group. They broke this news way before Reuters etc and did a sterling job in terms of in-depth research. Have a look at this slideshare for more information.
On April 12, they broke the news:
Though nothing has been formally announced, RNG DIGITAL strongly expects that Amazon will expand its AmazonFresh full-basket (and general merchandise) delivery service to Los Angeles by June 1, 2013 and San Francisco (October 2013). The expansion has implications for the grocery and CPG market online and offline, but could also be Amazon's Trojan horse for same-day delivery in the US.
I have a feeling that AmazonFresh is the testbed for the ever elusive someday shipping for Prime users and Amazon users in the US. Notice that the newly created AmazonFresh in Los Angeles has a newly created Prime membership class. Prime is the value and revenue for Amazon, the value being seen at the consumer side and the revenue side being seen on Amazon's end.
I think in the coming years in the US, Amazon will be offering same day shipping, but the execution will be unlike we all expect. Research firm Retail Net Group estimates Amazon generated $66 million in revenue from grocery deliveries in 2012 in only one location (Seattle).
The longer-term promise of same-day shipping is that it will bring the same revolution to groceries that Amazon once brought to books and music. That advantage is remarkable selection. At supermarkets, shelf space is finite and expensive, which is why you can rarely find everything you need at a single store.
If one takes the above into consideration then AmazonFresh is a big deal and will down the line play a big role for Amazon. This event is a monumental one as retailers have been placed on notice about Amazon's urge to be a grocery commerce business as well.. Over the Atlantic a retailer Ocado is to be seen as a reminder that Amazon is taking a risk in getting into online grocery retailing. The point is AmazonFresh is going to be something to keep an eye on, as the long awaited  expansion has now occurred.
I would like to thank Keith Anderson from RetailNet Group for his assistance on the above.